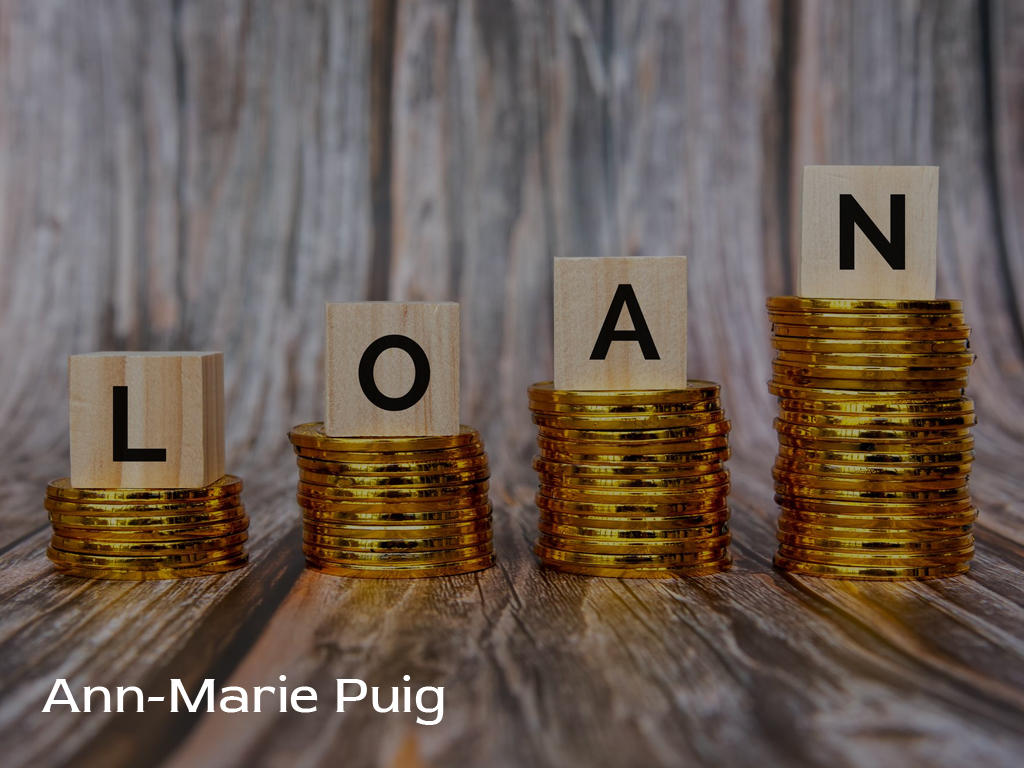 Ann Marie Puig, Business Visionary, Guides Self-Employed Entrepreneurs on Navigating Small Business Loans with Expert Strategies
Date :
August 10, 2023

By

Ann Marie Puig, a renowned business visionary, is empowering self-employed entrepreneurs with expert strategies to navigate the world of small business loans. In 2023, as the entrepreneurial landscape continues to flourish, Puig's insights serve as a roadmap for self-employed individuals seeking financial support to grow their businesses and achieve their dreams.

Self-employment has surged in recent years, with individuals pursuing their passions and launching innovative ventures. However, access to capital remains a crucial challenge for many self-employed entrepreneurs. Ann Marie Puig's dedication to empowering entrepreneurs led her to develop expert strategies for securing small business loans.

"Small business loans can be a game-changer for self-employed entrepreneurs looking to fuel their business growth," says Puig. "My mission is to guide aspiring self-employed individuals on the path to financial success, providing them with the knowledge and strategies to access the capital they need."

Puig's Expert strategies for navigating small business loans are as follows:

Financial Preparedness: Before seeking a small business loan, self-employed entrepreneurs should ensure their financial house is in order. This includes maintaining accurate financial records, organizing tax returns, and demonstrating a steady income stream.

Business Plan Development: A well-crafted business plan is essential for showcasing the viability and potential of the self-employed entrepreneur's business. Lenders want to see a clear roadmap for growth and a solid plan for repaying the loan.

Building a Strong Personal Credit Profile: For self-employed entrepreneurs, personal credit plays a significant role in loan approval. Puig advises individuals to monitor their credit scores and address any issues that may affect their creditworthiness.

Exploring Loan Options: Self-employed entrepreneurs have access to various loan options, including traditional bank loans, online lenders, SBA loans, and microloans. Puig's guidance helps entrepreneurs navigate these options and choose the most suitable one for their unique needs.

Understanding Loan Requirements: Different lenders have specific requirements for loan approval. Puig helps self-employed entrepreneurs understand the documentation, collateral, and eligibility criteria needed to secure a small business loan.

Building Relationships with Lenders: Establishing a positive relationship with potential lenders can be instrumental in securing a small business loan. Puig advises entrepreneurs to network with lenders and maintain open communication throughout the loan application process.

Leveraging Personal and Business Assets: Self-employed entrepreneurs can use personal or business assets as collateral to strengthen their loan applications and demonstrate commitment to the business's success.

Seeking Professional Advice: Puig recommends seeking guidance from financial advisors, accountants, or business consultants who can provide valuable insights and ensure loan applications are well-prepared.

Demonstrating Strong Cash Flow: Lenders often assess a business's cash flow to gauge its ability to repay a loan. Puig helps entrepreneurs showcase a stable and healthy cash flow to increase their chances of loan approval.

Choosing the Right Loan Amount: Self-employed entrepreneurs should carefully assess their business needs and choose the right loan amount. Puig's guidance ensures entrepreneurs do not take on excessive debt that could strain their business.

Puig's strategies are founded on her experience as a business visionary and her commitment to supporting aspiring entrepreneurs. Her vision extends beyond financial empowerment; she emphasizes the importance of ethical business practices, social responsibility, and fostering innovation.

"Empowering self-employed entrepreneurs is not only about securing loans but also about creating a sustainable and impactful business ecosystem," adds Puig. "By providing strategic guidance, I aim to foster a culture of innovation and responsible entrepreneurship."

As the entrepreneurial landscape evolves in 2023, Puig's expert strategies serve as a beacon for self-employed individuals seeking to navigate the complexities of small business loans and realize their dreams of business success.