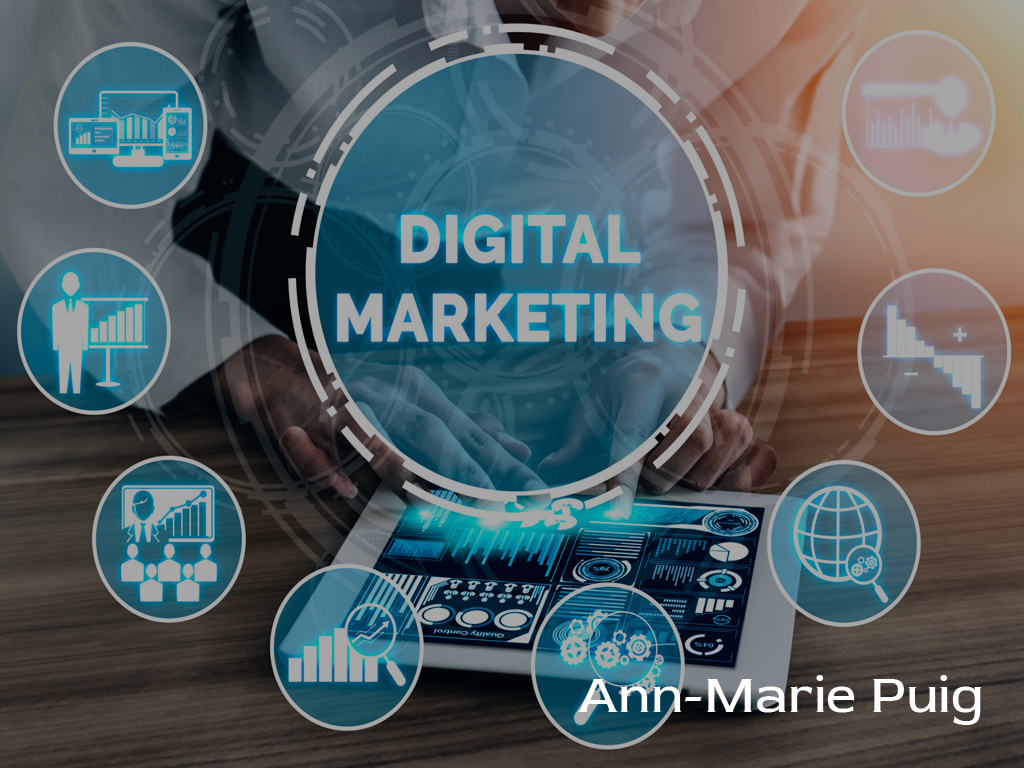 Ann Marie Puig offers simple digital marketing strategies to boost your business efficiency
Date :
February 21, 2023

By

With the digital world ever-changing, it can be hard to keep up with the latest digital marketing strategies that can help your business become more efficient. Ann Marie Puig, a global business consultant who has generated growth for companies around the world, explores five simple digital marketing strategies that can help you boost your business efficiency and gain more customers in the process.

Digital marketing is the process of using online channels to promote and sell products or services. It can be used to reach a wide range of customers in a short period of time and has become an essential part of many businesses' marketing strategies.

There are a number of different digital marketing strategies that businesses can use to boost their efficiency, including search engine optimization (SEO). This is the process of optimizing your website and content to rank higher in search engine results pages (SERPs). This can help you attract more organic traffic and improve your visibility online.

Social media marketing (SMM) is another. Explains Puig, "SMM involves creating and sharing content on social media platforms to promote your business or product. This can help you build relationships with potential and current customers, as well as increase brand awareness."

Pay-per-click advertising (PPC) also offers advantages. PPC is a type of online advertising where you pay for each click on your ad. This can be an effective way to drive traffic to your website and generate leads.

Email marketing continues to be a strong method of gaining ground. It involves sending promotional or informative emails to customers or prospects. This can be a great way to stay in touch with customers, build relationships and increase sales.

Lastly, content marketing involves creating and sharing valuable content (such as blog posts, eBooks, infographics, etc.) to attract attention and generate leads.

As a business owner, you can't afford to blindly invest your time and money into marketing strategies without first measuring and analyzing your progress. Doing so will not only help you gauge whether or not your marketing efforts are effective, but it will also give you insights into what's working and what isn't so that you can make necessary adjustments.

There are a number of ways to measure and analyze your progress, but some of the most important metrics to track include website traffic, leads/sales and conversion rates.

Website traffic can be measured using tools like Google Analytics. Once you know how much traffic your website is receiving, you can then look at things like the average time spent on site, pages per visit, and bounce rate to get an idea of how engaged your visitors are.

Leads and sales can be tracked in your CRM or customer database. This data will tell you how many new leads you're generating and how many of those leads are converting into customers. In addition, conversion rates can be calculated by taking the number of conversions (leads or sales) divided by the number of total visitors/traffic.

For example, if you have 100 visitors to your website and 10 of them convert into leads or customers, your conversion rate would be 10%. By tracking these key metrics, you'll be able to see how well your digital marketing strategies are performing and make necessary changes.

Digital marketing is essential for any business looking to maximize efficiency and reach its goals. With the right strategies in place, you can increase your visibility online, target potential customers more effectively, and measure the success of your efforts in real-time.